Rick Sheppard
Biography
Rick Sheppard is currently working on a Creative Writing degree at Full Sail University, where he's been awarded two Course Directors Awards. In the long term, he's developing several novels and screenplays.
Books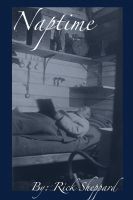 Naptime
By
Rick Sheppard
Price: Free! Words: 1,970. Language: English. Published: November 23, 2013. Category: Fiction
A man suffering from narcolepsy is shot during his nap; now he must find a way to the hospital before he succumbs to the wound and sleeps forever.
Rick Sheppard's tag cloud