Renee Shipp
Biography
I was born to a couple in the Atlanta, Georgia area; one of four children. Our mother was a very sweet lady, but was an alcoholic; our dad is one of the sweetest people I've ever met. But around the age of four, I and my siblings were all adopted by a couple who had everything; the big, brick home, the farm, money - the ideal setting, supposedly, to raise four children. But this couple began to abuse us physically, emotionally and we girls experienced sexual abuse as well. As time went on, we grew up and started our own lives. Personally, I just wanted to be happy; to find purpose in life. I found Jesus as my Savior at a Billy Graham crusade in Atlanta when I was a teenager and that turned my life around. Around the age of 19, I met my husband 36 years ago and we have two awesome sons as well as a grandson. I've had a few serious health issues, but the grace of God is sufficient. In dealing with my feelings about the abuse, the Lord began to show me the hatred in my heart towards my abusive adoptive parents. Over the years since then, Jesus has enabled me to completely forgive them and, rather than this horrific childhood ruining my life, God has turned my attention to the hurting people in the world. I have been a Sunday School teacher at my church for over 30 years; and for more than ten years, have enjoyed sharing devotionals with the ladies at our local jail. My newest ministry is working at our local rehab center, teaching the guys and girls there about the love of Jesus and His ability to change a life. I am also a high school and college math teacher and have edited a few books; that is what turned my heart toward writing. At the present time, I am 56 years old, working part-time at our local community college and doing ministry at our local rehab. In my relationship with Jesus, I have found what I was searching for as a child.
Books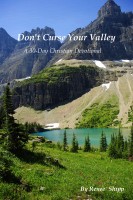 Don't Curse Your Valley: A 30-Day Christian Devotional
by

Renee Shipp
After being diagnosed with brain seizures in February, 2015, I found myself begging God for answers. You would think that, as a response to my great need, He would simply comfort me by His Spirit. Instead, I heard the Holy Spirit say, "Don't Curse Your Valley!" I pray that this devotional challenges and encourages you in your walk with Jesus as the initial message has challenged and encouraged me.
Renee Shipp's tag cloud