Rudy Velez
Biography
Rudy Velez is a product of a variety of life ingredients that goes back from his fun loving childhood which he enjoyed with his very close-knit family. He was influenced by his many favorite TV shows like Sesame Street. He idolized the creativity of Jim Henson as he pursued his premedical education. His initial plight to pursue a career in the medical field was overpowered by his endearing love for his soul mate. He then later shifted to a different direction. He took up marketing and advertising and landed on a career in broadcasting as a program director. This was when he discovered his interest in writing. He composed advertising materials for broadcast. He later developed writing short stories, most of which he collected and stored inside his treasure chest. Then lately, he decided to reopen this page in his life as he embarked in this new venture of composing what he calls 'fictionality' which is a fusion of fiction and reality. He simply admires the works of the Pixar people. He also enjoys listening to cool, easy jazz music playing from his iTunes collection, while he taps the keys on his netbook...and one day, he created the main character of the story, whose name is Dinky. He then incorporated his action scene ideas into the plot, inspired by Arnold, Jackie, and Rocky. Reminiscing his mom's morning ritual of preparing the best breakfast recipes, he introduced the story's great supporting cast members. And voila, "Dinky and the Breakfast Bunch" was born. Bringing together a recipe for success, Rudy hopes to inspire and empower young readers with his writing.
Where to find Rudy Velez online
Books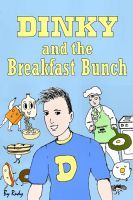 Dinky and the Breakfast Bunch
by

Rudy Velez
When the going gets tough, the tough gets Dinky. Wasting your life away hardly sounds cool, but when Dinky wakes up in a dumpster, he realizes it's time to turn things around. Thanks to chef Chim Li and some surprise guests, Dinky learns the power that comes from a healthy diet, a strong body, and even greater friendship.
Rudy Velez's tag cloud