R.S. Jinks
Biography
R. S. was born and predominantly raised in Dallas, Texas. His interests are reading, writing, investing, video games, movies, music, gambling, sex, and money. Scary movies are addicting but make him scream like a young girl. The swiftness of how fast time passes along with the lack of time in the day never ceases to disappoint him. He is fascinated with the esoteric and would love to become a member of the Illuminati as described by Dan Brown in Angels and Demons. He resides in the DFW metroplex and can't wait for the day he's able to write full time.
Smashwords Interview
Books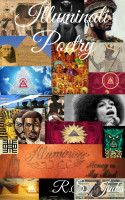 Illuminati Poetry
by

R.S. Jinks
Beautiful, gritty poetry from the author of Killers, Demigods, and Satan's Zombie Horde, Avarice Life Poetry 1, 2, 3, Yoga Fire, and Yoga Flame.
R.S. Jinks' tag cloud