Russ Mead
Biography
Russ Mead currently serves as General Counsel for Animal Law Coalition, and is a partner in the Seattle based law firm of Allen & Mead PLLC. He also serves on the Board of Directors for StubbyDog. In the past he has served as General Counsel for two of the nation's leading non-profit animal sanctuaries, Best Friends Animal Society and Farm Sanctuary. He was on the ground overseeing an animal rescue operation in the aftermath of Hurricane Katrina that ultimately saved thousands of animals. Russ also testified at legislative hearings in successful efforts to require that federal and state authorities provide for the rescue of pets as well as people during disasters. He has put into motion some of the largest animal rescues in the country and worked to help prosecutors in cases involving animal hoarders, puppy mills and people who use dogs for fighting. Russ holds a B.S. in Accounting from Arizona State University, an MBA from Lindenwood College, a J.D. from St. Louis University School of Law; he also has earned a CPA license. He teaches Nonprofit Animal Law and Farm Animal Law at Lewis & Clark Law School. Russ presents continuing legal education programs on the professional responsibilities of lawyers volunteering for animal nonprofits and is a frequent speaker at animal law conferences and law schools.
Books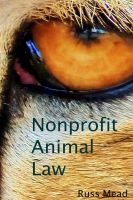 Nonprofit Animal Law
by

Russ Mead
An animal law text book and guide for lawyers who volunteer for and represent animal-related nonprofit organizations. Over 100 legal topics affecting animal shelters, animal rescues, animal sanctuaries, animal welfare groups, and animal rights groups. Animal rights and Nonprofit lawyer Russ Mead explores contemporary legal issues facing the nonprofit animal community.
Russ Mead's tag cloud