Ruth K. Ross
Biography
Ruth Ross, one of the most credible and authentic people you will ever meet on the subject of employee engagement, is the author of the recently released book "Coming Alive: The Journey To Reengage Your Life And Career."

The desire to write "Coming Alive" came out of Ruth's own experiences in Corporate America. Having been a successful human resources professional for 30+ years at some of the world's most admired companies, she left her last role as an Executive Vice President of HR at Wells Fargo in 2011 to start her own company to focus on the critical business imperative of identifying whether or not the disengagement disease is spreading within your own organization or inside yourself. Ruth has seen firsthand how focusing on engaging people can have a direct, positive effect on the bottom line of any organization or in relationships with others.

This passion for reengagement stems from her own face-in-the-mirror moment when she took a long look at herself and took stock of how she was feeling. As a successful executive, she looked around at the trappings that came with a big job and wondered why she felt invisible and not excited about the work she was doing. After putting a name to these feelings and admitting she was disengaged, she set off on a new path as an advocate for treating this disease.

Ruth is fully engaged in her quest to getting her message out about the power of engagement and passion, at work and at home. You can find her website at www.ruthkross.com.
Books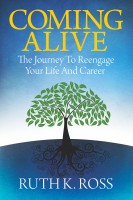 Coming Alive: The Journey to Reengage Your Life and Career
by

Ruth K. Ross
Coming Alive: The Journey To Reengage Your Life And Career is the prescription for anyone who has ever personally felt the pain of knowing they weren't fully engaged at work or at home (or both), has an important person in his or her life experiencing this or perhaps manages a team that is struggling with disengagement.
Ruth K. Ross' tag cloud