Ruth Mini
Biography
You may call me Ruthie. I'm a pretty smart girl. I turned twenty three on July 18 2016. I love photography. It's kind of big deal to me. I'm too smart for my own good, and most of the time it gets me in trouble. But if you ask me a question you can be sure I'll answer it. I care deeply about a lot of things, and I work very hard everyday to achieve anything I set my mind to. I have always loved photography and graphic design. My entire life has been about a constant quest for knowledge. Education has always been important to me. I wrote a book, created a website, and graduated high school all before I turned 17. You may not be aware of it yet, but I'm about to take over the world. I'm capable of accomplishing big things, it's just a matter of time. My life is just beginning and I've already done so much. Remember my name because pretty soon you won't be able to forget it.
Where to find Ruth Mini online
Books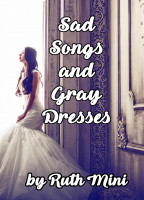 Sad Songs and Gray Dresses
by

Ruth Mini
Remember back in high school when things seem so perfect and then they go horribly wrong. Jane starts off depressed because of her parents recent divorce, but starts to feel happy again as she falls in love with "the perfect guy." This story is proof that when you love someone, tell them because they can slip away before you have a chance to say "I love you too."
Ruth Mini's tag cloud