Ruti Meyer
Biography
Ruti Meyer is a financial consultant, originally from Cape Town, South Africa, and now living in Brisbane, Australia with his wife Debbie, daughter Skye and son Stuart. He is a Chartered Accountant who has assisted large corporate entities throughout the world with their investment portfolios, tax consulting and financial planning. Today his efforts are directed at developing sales distribution channels in South East Asia and Australia, running a company that provides physical ownership of Gold and Silver bullion for investors as well as running a Mergers & Acquisition company.
Where to find Ruti Meyer online
Books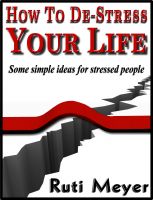 How To De-Stress Your Life
by

Ruti Meyer
Everyone needs a pre-determined strategy that helps them be prepared for the expected and the unexpected. It is a vital ingredient in your quest to de-stress your life. After applying the suggestions in this guide - or at least some of them - you will have become more organised and methodical in the way in which you go about your daily work and other activities. The trick is to have a system.
Ruti Meyer's tag cloud