Richard Van Anderson
Biography
I'm a former heart surgeon turned fiction writer. I write what can be described as medical mysteries, medical thrillers or novels of medical suspense, but I prefer to think of them as novels of surgical suspense. What is surgical suspense? Surgeons, surgical diseases and the operating room are all inherently dramatic. As a former surgeon, I've experienced this drama first hand and thought it would make for good fiction. My surgery training took me from the knife-and-gun-club of LSU Medical Center in Shreveport, Louisiana, to the famed Bellevue Hospital in Midtown Manhattan. My education as a writer includes an MFA degree where I was mentored by New York Times bestselling author Dennis Lehane, among other accomplished faculty. I know a lot about medicine and surgery, I know a lot about writing and storytelling, and I believe that combining this vast and unusual right-brain/left-brain experience will make for interesting reading and discussion, so please visit often.
Where to find Richard Van Anderson online
Books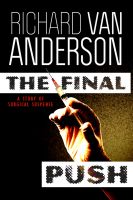 The Final Push
A third-year medical student has unrestricted access to the comatose trauma patient who shattered his personal life two months earlier. With a simple push of thumb on syringe, student-doctor Michael Higgins may be able to piece his life back together.
Richard Van Anderson's tag cloud