Bob Finertie
Biography
Bob Finertie was born in New Jersey, the Garden State, and now lives in California, the Golden State. Bob writes to live and lives to write. His favorite authors are Herman Melville and Cheryl Strayed. His other passion is nature photography. When his kids' kids started having kids, he knew it was time to write this book. His goal in this book is to connect with people. Connect with him at rwfinn@comcast.net.
Books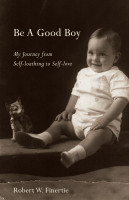 Be a Good Boy: My Journey from Self-loathing to Self-love
by

Bob Finertie
Often heartbreaking, but ultimately inspiring, Be a Good Boy chronicles Finertie's journey toward realizing that no amount of trying to be good and no amount of "going away" would fix the brokenness inside him—a realization that allowed him to finally find his way out of self-loathing and into self-love.
Bob Finertie's tag cloud