Robert Gaines
Biography
The novel 'One Good Deed' was cowritten by myself and Dr. Michael Barnes in 2008. We self published a small run of paperbacks. In 2012 & 2013 we revised the book, completing the revisions just before Doc passed away. Our plan was to publish as an e-book, and in keeping with that plan and the wishes of Doc's widow, Monica, we have done so. Hope you enjoy it. I am working on a sequel and have plans for a third book as well.
Where to find Robert Gaines online
Books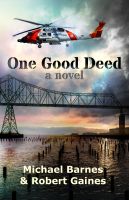 One Good Deed
by

Robert Gaines
synopsis title: one good deed length (number of words):122,884 336 pages. summary doctor mark brownlee, dissatisfied with his humdrum life as a rural family practitioner and increasingly at odds with his live in girlfriend, decides he needs to expand his horizons. his need for a more adventurous career, leads him to the u.s. coast guard and a new career as a flight surgeon.
Robert Gaines' tag cloud