Robert W. Lindsay
Biography
Robert W. Lindsay, who lives in Waxhaw, N.C., attended Elon University, the University of North Carolina, Fred Archer's School of Photography in Los Angeles, and Wynonna Advanced School of Photography in Illinois. He began his career as a commercial and portrait photographer in High Point, NC. After twenty years, he sold Emerywood Studio, to become a textbook representative for Behavioral Research Laboratories in Palo Alto, CA. Later he founded an international Mail- Order company, Unfinished Business located in Wingate, NC. Hobbies: Yacht Racing, Ballroom Dancing, Fly Fishing and Novel Writing. He has completed to date, many short stories plus a book of trivial poems and the  The Wily Hum-Bee is his second full length novel. 
Books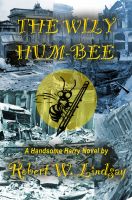 The Wily Hum-Bee
By
Robert W. Lindsay
Price:
$0.99 USD.
Words: 66,810. Language: English. Published: December 8, 2012. Category: Fiction
Handsome Harry is a crafty impersonator that uses disguises to confuse each adversary he encounters. As the story unfolds, their paths lead them to a WW2 General who had escaped from Germany with a footlocker full of diamonds that were seized by the Nazis during the war years.
Robert W. Lindsay's tag cloud