Ryder Cowboy
Biography
While the world goes nuts for billionaires and CEOs, Ryder will stick with her brawny, jean-wearing, shirtless cowboys who work well with their hands. Manual labor means they aren't afraid to get dirty, and she likes them so very dirty.

Connect and interact with her on Facebook: https://www.facebook.com/Ryder-Cowboy-256736614781731/
Books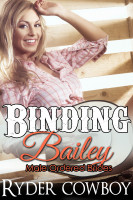 Binding Bailey (Male Ordered Brides)
by

Ryder Cowboy
I thought I was going to live with Mr. Wayne after Dad gave me to him in exchange for help with the horses and a gold bar. When I'm left at the station, I didn't know what to do. That is until Deputy Lucas finds me and takes me as his own. I'm just about settled in and learning about everything my pure virginal mind never knew before when the man that abandoned me winds up dead.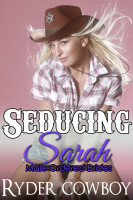 Seducing Sarah (Male Ordered Brides)
by

Ryder Cowboy
Sarah had moved out west to Nevada for four years of free higher education, but after getting her first paycheck after graduation, it's her neighbor that schools her. Trevor has kept it in his pants for four long, hard, years but when he sees Sarah in her skimpy outfit he's pushed over the edge. Tonight he'll finally taste what he's wanted.
Ryder Cowboy's tag cloud