Stephen Sackleigh
Biography
I am a great enthusiast for science fiction and have been since, as a child, I watched the first SF series on British television: Pathfinders in Space aired on ITV and produced by Canadian born Sydney Newman who went on produce Doctor Who when he moved to the BBC. This was back in the fifties and I was encouraged to watch this and read SF short stories borrowed from our local library by my father. Newman was also responsible for the Out of the Unknown BBC2 series that ran for four seasons in the late sixties which televised stories by John Wyndham, Ray Bradbury, JG Ballard, Frederick Pohl and others. The BBC also made A for Andromeda in 1961 which starred the young Julie Christie. Then in 1963 began the run of Doctor Who which continues to this day. I fondly remember watching the first episode in November '63 called An Unearthly Child when we first introduced to the Doctor and his granddaughter Susan. Over the years I have enjoyed the Star Trek TV series and movies, and other films like Event Horizon, Star Wars, Avatar and Sunshine. And even John Carter that the critics hated! I have continued to read the writings of Jules Verne, HG Wells, Ray Bradbury, EE 'Doc Smith', Iain M Banks, Gregory Benford and, recently, Hugh Howey amongst others. Now I am trying my hand at crafting my own creations. I live in London, England and my star sign is Virgo.
Where to find Stephen Sackleigh online
Books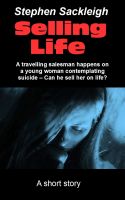 Selling Life
By
Stephen Sackleigh
Price: Free! Words: 5,080. Language: English. Published: April 13, 2013. Category: Fiction
This is a short story that tells us about the time when a travelling salesman parked his car and spotted someone who was about to commit suicide by jumping from the rooftop. Can he talk them down or has life just dealt them such a bad hand that they will go through with it? Just how good are his selling skills - Can he sell life itself?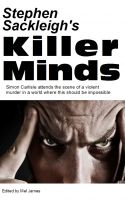 Killer Minds
By
Stephen Sackleigh
Price:
$2.99 USD.
Words: 71,080. Language: English. Published: April 9, 2013. Category: Fiction
Simon Carlisle is a police Technical Support Officer who is called to the scene of a violent death in a world where this is an extreme rarity. The population has cranial implants from birth that prevent them from committing violent acts. He is hiding a secret of his own - he has mental control over his implant. He learns that the victim had her implant removed. This knowledge places him in danger
Stephen Sackleigh's tag cloud