Sajohn Daverly
Biography
Sajohn Daverly has been a student of the Eastern wisdom teachings for over 35 years, assisting in the writing, editing, and proofreading of books and magazines presenting Eastern philosophy and culture since 1979. Previously ordained into one of the traditional branches of the Swami order during his three years living in India, he has been sharing his spiritual insights with groups and offering individual consultations since 1996.
Where to buy in print
Books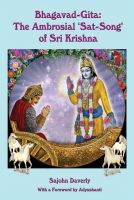 Bhagavad-Gita: The Ambrosial 'Sat-Song' of Sri Krishna
Complete with word-for-word transliteration, this new presentation of India's timeless spiritual classic illuminates many subtle details which readers may find themselves either relishing for the very first time, or revisiting with a new level of penetration and appreciation.
Sajohn Daverly's tag cloud