Sarah Koch
Biography
Sarah is a student at Full Sail university and is currently working towards a Bachelor's degree in Creative Writing for Entertainment Purposes. She currently works at BB&T as a full time teller. Sarah spends much of her free time playing games, such as Fallout, Elder Scrolls Online, and Mass Effect. She found her passion for writing in her later years of high school, and hopes to one day be a successful writer/director.
Books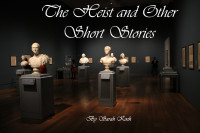 The Heist and Other Short Stories
by

Sarah Koch
This book is a series of short stories, ranging from drama to thriller. Each story takes on its own spin of common themes, including laughter in the face of danger, doing what is right for you, and dealing with loss and grief.
Sarah Koch's tag cloud