Sally Hultstrand
Biography
A native of northern Minnesota, Sally Hultstrand has been creating gardens for over fifty years in seven different states. Gardening all the while, she raised four children and moved thirteen times before finally settling on the three Michigan acres where, over the last twenty years, she planted the gardens described in The Not-So-English Garden. Once a teacher of English and journalism, she later studied horticulture and landscape design and has visited gardens from China to France and from the Netherlands to Australia, but lost her heart to the English gardens. She is the co-author of Did Somebody Pack the Baby? a how-to book on moving published by Prentice Hall, which appeared in hardcover and paperback editions. Her essays have been published in The New York Times and the Battle Creek Enquirer.
Books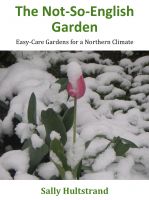 The Not-So-English Garden
by

Sally Hultstrand
(5.00 from 1 review)
Here is practical advice for creating gardens with an English accent even if you don't live in the nurturing atmosphere of England. An entertaining guide for fledgling gardeners as well as those with experience, the book is studded with practical tips for all four seasons--which plants give the most bang for the buck, are easiest to care for, and contribute to a garden you can enjoy for years.
Sally Hultstrand's tag cloud