Sally M. Keehn
Biography
SALLY M. KEEHN says that Gnat Stokes and the Foggy Bottom Swamp Queen began with her cat Scottie, who inspired the character of the Swamp Cat. The story also had its beginnings in an old Scottish folk ballad, Tam Lin. Ms. Keehn took the story behind the ballad and set it in the Smoky Mountains of Eastern, Tennessee, where she felt there could be cats that talk, evil Swamp Queens, and girls like Gnat Stokes who fall in love with someone they're not supposed to.

Although much of her heart remains in the Smokies, Ms. Keehn lives in Allentown, Pennsylvania, with her husband, David, and a number of animals who inspire her, including three cats and a sweet little dog named Sophie.
Books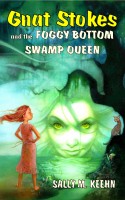 Gnat Stokes and the Foggy Bottom Swamp Queen
by

Sally M. Keehn
SAVE ME! When twelve-year-old Gnat Stokes comes upon this message from Goodlow Pryce, missing these past seven years, Gnat knows he's still alive. She's determined to save him and bring him home to his Appalachian mountain cove even if it means facing the evil Swamp Queen, Zelda, who lurks in nearby Foggy Bottom.
Sally M. Keehn's tag cloud