Salma A Siddiqui
Biography
SALMA SIDDIQUI was born in Rawalpindi. She migrated to the United Kingdom with her family when she was nine years old. Her formative years have left a lasting impact on her life. Following graduation, Salma pursued a career as a research biochemist, at St Georges Hospital Medical School. Some years later, she began teaching 'A' Level Biology. She has published several science textbooks which are now part of school syllabi in both Britain and Pakistan. She spends her time teaching, writing and travelling. This is her first novel.
Salma lives in London with her husband, Asif, and their children – Kashif, Nimra, Samirah and Saif.
Books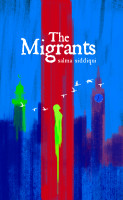 The Migrants
by

Salma A Siddiqui
Told in the first person, this honest, deeply moving and searingly self-critical account of the life of first generation Pakistani migrants in England is imbedded in the kaleidoscopic memories of a generation haunted by the tragic events of history. Burdened by their own secrets, it is the tale of a family in pursuit of hope and happiness in a new world.