Sandy Cole
Biography
I grew up on a lake in Michigan where I lived until I graduated from college as an elementary teacher. As a child, I was a tomboy, riding bikes to the local riding stable to feed carrots to the horses and swimming, fishing and catching crawfish all summer long. In fourth grade I fell in love with Mr. Batsakis, my all-time favorite teacher, and decided then and there that I wanted to be a teacher too. In high school my math and science teacher had just returned from teaching overseas for the Department of Defense and further defined my teaching ambitions.

I was bitten by the travel bug at 13 when my Scottish parents took us to the "Old Country" for the summer, to meet relatives and travel all around Scotland and to London as well. When I fulfilled the two years of elementary school teaching needed, I applied to the Dept. of Defense Overseas School System and spent the next six years teaching elementary school in Germany and England- traveling to Denmark, Holland, Spain, Italy, Greece, Austria, Romania, and Egypt on school vacations. I married while over there and taught in Massachusetts for a few years, having a daughter and a son, before moving to New Hampshire where I took a job at a community college, teaching psychology, counseling students, and running a grant-funded single parent program.

When I retired, the travel bug bit me once again, and, meeting Dick, who also loved to travel, we set off for wider horizons. He and I have gone to Costa Rica, Puerto Rico, Bermuda, Jamaica, Peru, The Galapagos Islands, Ecuador, South Africa, Tanzania, Kenya, Madagascar, Australia, Tahiti, New Zealand, Scotland, England, Greece, Italy, France, Holland, Norway, Sweden, Denmark, Nepal and China. My early fascination with bathrooms, as noted in my introduction to the book, followed me wherever we went and my camera was always with me when I headed for a restroom. Loving to write, I decided to share my experiences and photos with others, both travelers and bathroom lovers.

We presently share our time between New Hampshire, enjoying family, and North Carolina, enjoying beaches, escaping to more exotic climes when we can.
Books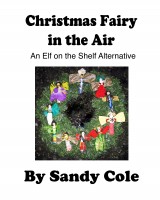 Christmas Fairy in the Air: An Elf on the Shelf Alternative
by

Sandy Cole
Because The Elf on the Shelf focuses on bad behavior I have written an alternative- Christmas Fairy in the Air. It hangs in your house to hear the good things your children have done each day. Children report each good deed, kindness, or politeness to the fairy. As a counselor, I truly believe inputting the emphasis on positive behaviors to cause changes for the better.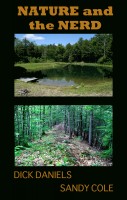 Nature and the Nerd
by

Sandy Cole

&

Richard Daniels
This book describes the evolution of some neglected woods in Sandwich, New Hampshire from negligible wildlife into a rejuvenated forest where wildlife thrives. As the forest evolves, so does the Nerd - from a research and development engineer to a person who feels an ongoing kinship with the land.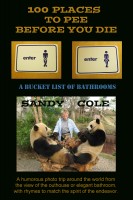 100 Places to Pee Before You Die - A Bucket List of Bathrooms
by

Sandy Cole
A humorous photo trip around the world from the view of the outhouse or elegant bathroom, with rhymes to match the spirit of the endeavor. A great addition to a travel book collection or bon voyages gift.
Sandy Cole's tag cloud