Sandeep K. Pandit
Biography
Sandeep has been part of corporate finance for more than 20 years with extensive experience in financial planning, budgeting, reporting and managing cross functional teams. He has been part of many large organizations as well as mid-sized companies which have groomed his work culture ranging from being part of a large process to working in a customized environment. He has over the years shown a successive growth in academics as well as career progression. He has an MBA from University of Florida and has worked in US for over 8 years gaining the working culture of the west. He is also a Chartered Accountant from India and is in the process of getting his Canadian CA certification. He has been part of industries such as Oil and Gas, Manufacturing, Technology and Consulting. He possesses an advanced knowledge of corporate governance and reporting. He has taken part in financial modeling and analysis cycle reporting variances and projections. He is also been part of shared service environment serving many business units from one central location. He has received Six Sigma certification in process improvement and was part of many digitization efforts including system implementation.
Where to find Sandeep K. Pandit online
Books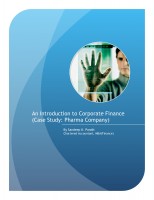 An Introduction to Corporate Finance (Case Study: Pharma company)
by

Sandeep K. Pandit
This book is for any corporate finance aspirant who would like to have a better understanding of how to approach his career and where he would like to build and sustain his professional acumen. This is an easy read and to the point book about corporate finance structure and how it is integrated into any organization.
Sandeep K. Pandit's tag cloud