Sara Dobie Bauer
Biography
Sara Dobie Bauer is a bestselling author, model, and mental health / LGBTQ advocate with a creative writing degree from Ohio University. Twice nominated for the Pushcart Prize, she lives with her hottie husband and two precious pups in Northeast Ohio, although she'd really like to live in a Tim Burton film. She is author of the paranormal rom-com Bite Somebody series, among others sexy things.
Books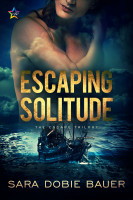 Escaping Solitude
by

Sara Dobie Bauer
Ancient vampire Andrew escaped his tropical island exile with his beloved human sailor, Edmund. They've now returned to Andrew's home in nineteenth-century New Orleans and must navigate not only their developing relationship—and equally haunted pasts—but also a hungry coven of vampires Andrew used to call friends.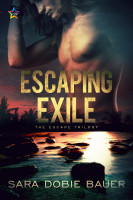 Escaping Exile
by

Sara Dobie Bauer
Andrew is a vampire, exiled to a tropical island in the 1800s as punishment for his human bloodlust. After rescuing a sailor from the cannibals native to the land, Andrew becomes fascinated with his brilliant, beautiful new companion.
Sara Dobie Bauer's tag cloud