Sarah Churman
Biography
My name is Sarah Churman, I'm 30 years old and married with 2 little girls. I was born and raised in Ft. Worth, Texas. 'Powered On' is my first book. The last 2 years I've been on a crazy journey after receiving 2 hearing implants. It started with a viral YouTube video, which led to appearances on the Ellen Show, 20/20, The Today Show, The Doctors, Anderson Cooper, Sunday Night, NY Ink, Ricki Lake, and many others. This book is about my life growing up with a disability (hearing impairment), about getting the Esteem Implants, and my thoughts and outlook on life along this journey.
Where to buy in print
Books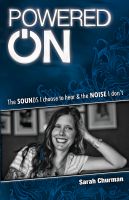 Powered On
by

Sarah Churman
Powered On is the true story of Sarah Churman's amazing transition from a life without natural hearing to a new world of sound. Nearly three decades after being born profoundly deaf, an advancement in technology allowed Sarah to hear the voices of her own children clearly for the very first time. In this deeply personal work, she reveals what it means to experience both sides of a disability.
Sarah Churman's tag cloud