Sarah Kay Moll
Biography
Sarah Kay Moll is a wordsmith and an amateur homemaker. She's good with metaphors and bad with coffee stains, both of which result from a writing habit she hasn't been able to quit. She lives a mostly solitary life, and as a result, might never say the right thing at parties. She's passionate about books, and has about five hundred on her to-read pile. When she does go out, it's probably to the library, the theater, or the non-profit where she volunteers.

Sarah lives in a beautiful corner of western Oregon where the trees are still changing color at the end of November and the mornings are misty and mysterious. She spends her free time playing video games and catering to her cat's every whim.
Books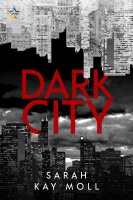 Dark City
by

Sarah Kay Moll
As the walls between Jude and Ras crumble, they could lose everything—their lovers, their family, and their hold on the dark city itself. Coming together could break them…or make them whole.
Sarah Kay Moll's tag cloud