Sarah Shannon
Biography
Since her earliest childhood, Sarah Shannon has been an obsessive writer, games designer and video game enthusiast. Raised by a family of game developers to love games, she has developed an unhealthy interest in History and has spent a significant amount of time studying and saving money in the hopes of pursuing a degree at Oxford University. With a long-standing love for games and history, she has been writing fiction based on Paradox's grand strategy games for years.
Books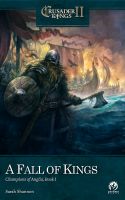 A Fall of Kings: Champions of Anglia (Book I)
by

Sarah Shannon
The year is 1066, and the Anglo-Saxon Kingdom of England stands upon the brink of destruction. The Earls of Mercia and Northumbria unravel a conspiracy that could tear the Kingdom apart even as it faces invasion from both north and south. Based on the popular Crusader Kings II game by Paradox Interactive, A Fall of Kings is a fictional novel set in an alternate timeline of our own history.
Sarah Shannon's tag cloud