Sara Lamy
Biography
É licenciada em Direito e tem um mestrado em Law & Business pela Catolica Lisbon School of Business and Economics e pela Faculdade de Direito da Universidade Católica Portuguesa.

É Advogada Estagiária.

Colabora com a revista Le Cool Lisboa, onde escreve com carácter de regularidade artigos sobre a actualidade, eventos e lugares da capital portuguesa.

Participou no Campeonato Nacional de Poesia organizado por Pedro Chagas Freitas em 2013, onde viu alguns dos seus poemas receberem as mais elevadas classificações.

Considera que a entrega às nossas paixões é a única forma de estar na vida e de atingir a realização plena. Por isso, hoje com 27 anos decide editar o seu primeiro livro de poesia.

"Desde muito pequenina sempre adorei escrever. Em parte estímulo que foi instigado pelo meu pai, tal como a leitura, mas que assumi como um gosto pessoal daí em diante".

Aos 12 anos já escrevia os primeiros poemas.

No ensino secundário, ingressa na Escola Secundária Poeta António Aleixo, antigo Liceu Nacional de Portimão, e frequenta a área de Humanidades, onde se destaca como aluna de excelência.

A Sara acredita que:

"Independentemente do que façamos, o mais importante é colocar a alma em todos os nossos projectos, até nas coisas mais simples da vida. Essa é a única forma de marcar a diferença no mundo de hoje, um mundo que anda distraído com o egoísmo, o egocentrismo e o virtual. Só as grandes paixões podem mover o mundo, primeiro o nosso e depois o dos outros".
Books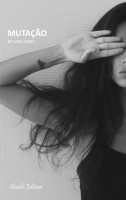 Mutação
by

Sara Lamy
É ISTO QUE ME MOVE. A LOUCURA. O DESESPERO. A FALTA DE AR, NÃO QUERO ESQUECER. FOI LOUCO DEMAIS. TRISTE DE QUEM NUNCA SUFOCOU.