Stephan A. Schwartz
Biography
Scientist, futurist, and award winning author Stephan A. Schwartz is the columnist for the journal Explore, and editor of the daily Schwartzreport.net. For more than 40 years he has done consciousness research, and is one of the founders of Remote Viewing, and the anthropology of consciousness. He is the 2017 recipient of the Parapsychological Association's Outstanding Contribution Award. Current academic and research appointments: Distinguished Consulting Faculty of Saybrook University, and a Research Associate of the Cognitive Sciences Laboratory of the Laboratories for Fundamental Research. Prior academic appointments: Senior Samueli Fellow for Brain, Mind and Healing of the Samueli Institute; BIAL Fellow; founder and Research Director of the Mobius laboratory; Executive Director of the Rhine Research Center; and Senior Fellow of The Philosophical Research Society. Government appointments: Special Assistant for Research and Analysis to the Chief of Naval Operations, consultant to the Oceanographer of the Navy. Author of more than 130 technical reports and papers, 20 academic book chapters and four trade books: The Secret Vaults of Time, The Alexandria Project, Mind Rover, Opening to the Infinite, and The 8 Laws of Change, winner of the 2016 Nautilus Book Award for Social Change. He is also the producer and writer of documentaries, series, and primetime network specials.
Where to find Stephan A. Schwartz online
Books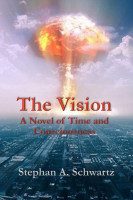 The Vision - A Novel of Time and Consciousness
by

Stephan A. Schwartz
The Vision is the story of a group of private individuals who, while doing a remote viewing research project studying the nature of consciousness, come to believe their city, Washington, D.C., faces a catastrophic nuclear disaster in a few weeks that no one knows about, and that will change the world. This is the thrilling account of what they did with that information.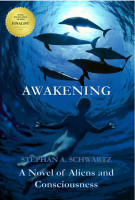 Awakening - A Novel of Aliens and Consciousness
by

Stephan A. Schwartz
Awakening is the log kept by Arthur Davies, senior analyst for the U.S. Senate Committee on Commerce, Science and Transportation. Arthur became convinced an alien really was being held by the government at a secret facility. The log is his story of what he did with that information, and how he was awakened to a part of himself he had never imagined.
Stephan A. Schwartz's tag cloud