Saul Dharien
Biography
Saul was born in France in 1962. "To create is to affirm that One exists, it is to annihilate the absolute nothingness." Saul created literary works all of his short life. His mind was spinning with stories to tell. Salman Rushdie has said "The best minds are unconventional." What a perfect description of Saul.
He started his adventurous life before his twenties. He went to China, and from then kept on flying to the unknown. Saul lived in Europe for a few years. He crisscrossed from Hungary to Greece, from Italy to wherever his wanderlust demanded.
He went to School and College in the U.S. He was in New York in September 2001 when 9/11 brought horror, destruction and death, and he walked those empty streets, and felt the sorrow at ground zero.
Saul went back to Asia again and again. Asia was his haunt, particularly Thailand, Java, Cambodia, Laos, Malaysia and Bali. He was on the roof of a hotel in December 2004, in Sri Lanka when the Tsunami swept away 230,000 souls in its path.
Sometimes he rented a room to rest for more than a month. Saul lived in internet cafes wherever he was, and it was in those places that the wrote some of his tales.
Saul made friends easily. He was never alone. He fascinated anybody who came in contact with him. One of his professors wrote after his death ... "There was no one else remotely like him that I ever knew, and that probably works for anyone who knew him as well. He reminded me of a spirited colt ... How could someone who so loved to write, who had half a dozen novels spinning in him at once, who had energy and wit and sweetness and wanderlust all brimming in his soul ... Saul was very handsome and his IQ up the chart ...
He ultimately faced his destiny on a train going to Sumatra, in Serang. He died from a broken heart on April 7, 2010.
And the God went mad. The Eyjafjallajokull volcano, dormant for two centuries, erupted on April 14 2010, sending ashes 11,000 meters up in the sky, creating total chaos across the globe, and refused to give me back my son for burial. We all understood it was in accordance with his life, and we waited for the goodwill of God.
Books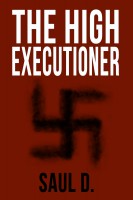 The High Executioner
by

Saul Dharien
You set the price!
Words: 185,070.
Language: English.
Published: March 20, 2016
. Categories:
Fiction
»
Historical
»
General
It's the story of a little soldier becoming a murderer. He is an SS Off. during WWII in Russia performing a ghastly job: to kill Jews and Gypsies by the thousands. Atrocity and violence. Everything is spelled. He's becoming insane trying to justify this "Holocaust". There are also luminous moments meeting Jewish families before deportation, in the ghetto, and survivors joining Russia's partisans.
Saul Dharien's tag cloud