Sherry Chadwell
Bobcats in the backyard, bears on the front porch and skunks under the floor are regular occurrences for Sherry Chadwell and her artist husband, Jim Bowlin, at their home in the woods of Southwestern Oregon. As Sherry comments, "Our lives are enriched by our constant contact with Nature. Every day holds the promise of a new adventure."
They have surrounded themselves with animals, including wild foundlings they have raised and released, and have embraced the lessons these temporary members of the family have taught.
Sherry is a wildlife artist, working primarily in pencil and watercolor. She and Jim are happiest when they are outdoors hiking, fishing, canoeing, or otherwise enjoying the wilderness. Sherry also spends time "running across fields, swamps, hills and gullies," training her tracking German shepherd, Sage.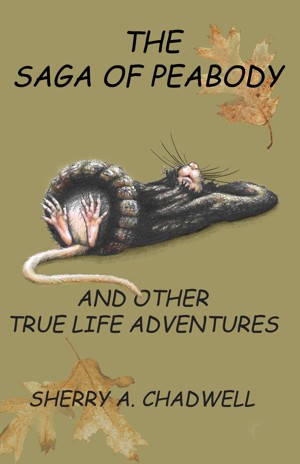 The Saga of Peabody and Other True Life Adventures
by

Sherry Chadwell
(5.00 from 1 review)
A wild raven learns to trust the author and her husband. A bat flies in to gently take moths from a child's fingers. A mother warbler perches on the author's thumb to feed its babies held in the palm of her hand. A foundling baby pack rat grows up with the family and is gradually returned to his natural home in the woods. These are just a few of the tales found within these pages.