Darrell Schweitzer
Biography
Darrell Schweitzer (born August 27, 1952) is an American writer, editor, and essayist in the field of speculative fiction. Much of his focus has been on dark fantasy and horror, although he does also work in science fiction and fantasy. Schweitzer is also a prolific writer of literary criticism and editor of collections of essays on various writers within his preferred genres.
Books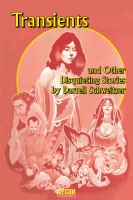 Transients and Other Disquieting Stories
by

Darrell Schweitzer
Transients and Other Stories is a collection of stories by Dark Fantasy veteran Darrell Schweitzer. It was nominated for a World Fantasy Award for Best Collection in 1994. Matthew Warner said of it: Aside from being "disquieting," these 15 tightly-written horror stories are tinged with a bittersweet melancholy that can only come from a writer who has written a lot, read a lot, and lived a lot.
Darrell Schweitzer's tag cloud