Scott Cosby
Biography
40s, enjoys books and writing. Technical writing mostly, but I like to explore outside my comfort zone as well. My normal work includes a monthly column for a drilling trade publication and article projects for various Siemens Corporation magazines. Recently, started writing manuals and other items for a local manufacturing company.

My interests: History, Science, Science Fiction, and Comics.
Books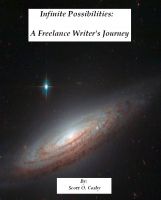 Infinite Possibilities: A Freelance Writer's Journey
by

Scott Cosby
The personal story of the author on his journey into freelance writing in a conversational tone based on journal entries.
Scott Cosby's tag cloud