Seng Cheong Loke
Biography
Dr Loke grew up in Kuala Lumpur, the capital of Malaysia where rapid urbanisation has obscured the night sky with city lights. He moved to Singapore for his high school education at St Andrew's Secondary School and the National Junior College, and subsequently underwent medical training at the University of Melbourne, Australia. He worked in the United Kingdom and Singapore for many years and qualified as a consultant physician and endocrinologist.
In 2007, he returned home and joined Universiti Putra Malaysia where he served as the head of the Internal Medicine and Endocrinology units, before moving to the Institute of Gerontology as its deputy director. Subsequently, he transferred to the Faculty of Medicine and Health Sciences where he is currently serving as a clinical professor. Dr Loke has published over 40 scientific articles, chapters, and abstracts in academic endocrinology and gerontology, and speaks regularly at major conferences in the region.
His interest in amateur astronomy was kindled during his family holidays overseas where he encountered truly dark skies for the first time in his life. As the observation site in his garden yard is heavily light polluted, he chose to pursue astrophotography rather than visual astronomy due to the greater flexibility that it offers. His goal has been to show that amateur astronomers even within an urban landscape can still produce good results provided that they have the right mix of equipment, software, and technical skills for the job.
Books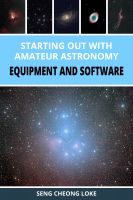 Starting Out with Amateur Astronomy - Equipment and Software
by

Seng Cheong Loke
Getting started on a new hobby can be a daunting challenge when there are so many possibilities to consider. This is especially important for astronomy where equipment purchases can be quite expensive and a wrong decision leads to much regret and wasted time. This book aims to guide the budding amateur astronomer in making an informed choice in equipment and software purchasing.
Seng Cheong Loke's tag cloud