Scott T. Starbuck
Biography
Scott T. Starbuck was a Friends of William Stafford Scholar at the "Speak Truth to Power" Fellowship of Reconciliation Seabeck Conference in 2014, a 2013 Artsmith Fellow on Orcas Island, and writer-in-residence at the Sitka Center for Art and Ecology. His poetry focuses on the clash between ancient sustaining forces like wild salmon rivers and modern industry and industrial livelihood. He currently lives in Portland, Oregon, and San Diego, where he teaches creative writing, world literature, and English. He hikes Oregon and Washington coasts documenting pristine aspects of wilderness as well as our culture's desecration of ecological communities.
Where to buy in print
Books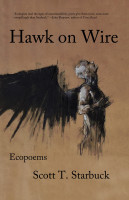 Hawk on Wire
by

Scott T. Starbuck
Hawk on Wire is a record of ecological disaster caused by global heating, and informed prophecy of what will happen unless humanity changes from coal and tar sands oil to renewable energy in the next five years from 2017 to 2022. The book includes a series of imagined ghosts speaking about climate change, including Martha, the last passenger pigeon who died 1914.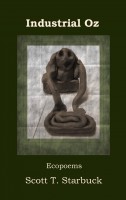 Industrial Oz - Ecopoems
by

Scott T. Starbuck
Industrial Oz explores CEOs' and politicians' Titanic arrogance in the face of human-caused climate destruction.