Martha E. M. Whitelaw
Biography
Martha E. M. Whitelaw is a Scottish author who currently resides in the heart of the Rocky Mountains in Colorado, where she enjoys writing and painting, and taking long walks with her husband who is also a writer and artist.
Books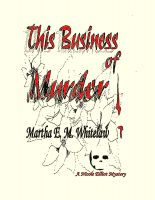 This Business of Murder
By
Martha E. M. Whitelaw
Price:
$6.95 USD.
Words: 42,040. Language: English. Published: October 18, 2013. Category: Fiction
First book in the Nicole Elliot Mystery series by Scottish author Martha E. M. Whitelaw, a cozy murder mystery for adult fans of the genre.
Martha E. M. Whitelaw's tag cloud