Scott Laurange
Biography
Having been born and raised in Kinderhook, NY, the town where Washington Irving penned The Legend of Sleepy Hollow, it is perhaps no surprise that Scott J Laurange found himself from an early age drawn to the supernatural and the macabre. Thus steeped in the history of American gothic literature, it was inevitable that he would add his humble voice to that mighty chorus which resounds through the ages. His unhealthy love of disco, his wacky sensibility, and his incorrigible pomposity permeate his unusual take on the genre. He currently resides in Texas with his wife, son, and four cats.
Where to find Scott Laurange online
Books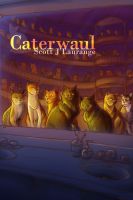 Caterwaul
by

Scott Laurange
There are spiders in the fudge. Why? Leonard doesn't know, but he suspects Faust, his girlfriend's cat, may have something to do with it. Caterwaul, a short tale of teleporting felines and crazy, one-eyed fiends answers the question: what lies beyond the bathroom mirror?
Scott Laurange's tag cloud