Scott Thybony
Biography
Scott Thybony, a writer based in Flagstaff, Arizona, and former archeologist, has written about history for the National Geographic Society and Smithsonian magazine. He grew up running across the battlefields of Virginia, and his later travels through America have resulted in award-winning books and magazine articles. At various times, he has found himself eating moose jerky with nomadic hunters, mutton stew with Navajo medicine men, and hardtack with Civil War re-enactors. He continues to share his enthusiasm for the past and the places which bring it alive through his guidebooks, essay, and stories.
Where to buy in print
Books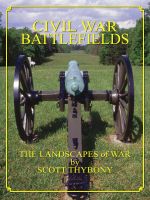 Civil War Battlefields: The Landscapes of War
by

Scott Thybony
Award-winning author Scott Thybony recounts the dramatic events of a war which re-shaped the nation. His essays trace the year-by-year unfolding of the conflict, followed by accounts of the legendary battles and the tragic struggles which changed forever the lives of those who fought them.
Scott Thybony's tag cloud