Flying Raven Press
Publisher info
As publishing continues to morph and change in the twenty-first century, publishers themselves must adapt quickly or find themselves sitting on the sidelines. Flying Raven Press was founded on the belief that a small, nimble company with low overhead, a strong commitment to quality, and a willingness to embrace all forms of technology could compete effectively to bring great writing to today's readers.
Where to find Flying Raven Press online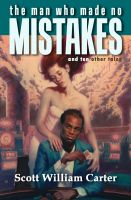 The Man Who Made No Mistakes
by

Scott William Carter
What if you had the power to rewind time? Make a scene in a restaurant, give your boss the finger, rob a bank just to see how it feels — you could satisfy any whim, fulfill any desire. The man who wanders into Father Holder's Las Vegas confessional says he has just such a power. This remarkable tale leads off Scott William Carter's latest short story collection.
Flying Raven Press' tag cloud