Stephen W. Kane, Ph.D.
Biography
Dr. Stephen Kane is a psychologist who provides individual, marriage and family therapy and specializes in mood disorders and family conflict. He has had extensive experience in community mental health as a psychologist with the University of South Florida Psychiatry Center and as a provider for CIGNA in the Tampa Bay area. As past director of counseling centers in higher education he likewise has a sensitivity and specialization in college and university students' developmental issues. Dr. Kane is the author of the Family Crisis Scale, the Family CHORES Model of Therapy, which was published in the American Journal of Family Therapy and numerous papers presented at national and international conferences. He completed his doctoral studies at Syracuse University and is currently Associate Professor / Chair in the M.A. in Counseling Program at the University of Guam. He can be seen periodically on the Discovery Channel's Unsolved History series with his forensic analysis of the unsolved Lizzie Borden family murders, 1892.
Books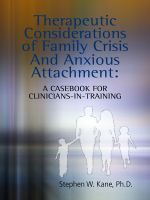 Therapeutic Considerations of Family Crisis and Anxious Attachment: A Casebook for the Clinician-in-Training
by

Stephen W. Kane, Ph.D.
"Guiding the heart of the clinician-in-training to an appreciation of the soul of the family," this casebook explores the theories and concepts of loss-generated anxieties occurring within the context of the family while suggesting effective methods for treating the anxiously attached client in psychotherapy.
Stephen W. Kane, Ph.D.'s tag cloud