Maude Massey
Biography
Maude Massey stayed in the home she and her beloved Delbert built, as she promised him, until their children were raised. Upon her retirement, Maude sold the old home stead. When the new owners removed the floor covering, the scuff marks made by the toes of Delbert's work boots, as he knelt in prayer, were still visible. Every day before going to work, Delbert prayed and concluded every prayer, "Lord, hedge my children in from the ways of the world." When the last child married and left home, Maude's children moved her to be near them, where she is lovingly cared for by all. Maude Massey is matriarch to five generations and, as biblically promised:
Proverbs 31:28 "Her children arise up, and call her blessed;"
Books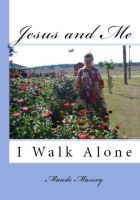 Jesus & Me: I Walk Alone
by

Maude Massey
Maude Massey's book, "Jesus and Me" tells the story of Maude's many years surviving as a widow, after the loss of her beloved husband, Delbert. This story is a testimony of what one tiny woman was able to do in the face of great difficulty. Widowed at twenty-six years of age with an eighth grade education and five children, Maude Massey will tell you,"I did not make it alone, it was Jesus and Me!"
Maude Massey's tag cloud