Sue Deutscher
Biography
I grew up on a farm. I went to a junior college. I went to a tech school. I retired earlier than most. I painted. I hiked. I rode my bike. Through all of that, since the very beginning when I realized these squiggly lines made words and the words could tell stories, since way back then, I wrote. Sometimes more than others, but a compulsion never lets you sit idle for too long.
Books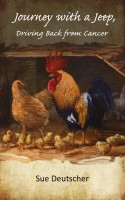 Journey with a Jeep, Driving Back from Cancer
by

Sue Deutscher
This true story tells of one woman's experience with cancer, starting with her renovating a Jeep. When the diagnosis came, she, with her family, endured the disbelief and fear of the unknown. After treatment, humbled and grateful, she joined the ranks of "survivor". But her journey didn't feel complete until she reached the goal she had started. She finished the Jeep, and felt truly healed.
Sue Deutscher's tag cloud