RJ Slaugh
Biography
Rod Slaugh grew up in the small town of Vernal Utah, where he attended Uintah High School. He went on to graduate from Weber State University with his BS in Communication Studies, with Minor in Criminal Justice. He has spent some time living in Wisconsin, but has moved back to Utah. He now lives in Lapoint, Utah, where he loves spending time outdoors. He has been diagnosed with a genetic disorder which has affected his vision, preventing him from spending his time exploring the great outdoors. He has a great positive attitude on life, and feels that this has improved other senses, allowing him to see things in his mind that others might not. He loves listening to audio books and movies.
Books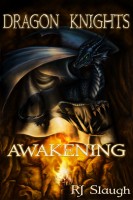 Dragon Knights Awakening
by

RJ Slaugh
Drake has been away from home for many years. He now realizes that he needs to make amends with his Mary, his sister, for the way that they parted several years ago. When he arrives at his sister's village, he finds that it has been decimated by a horde of daemons, sent by evil wizards. Swearing an oath of vengeance, he seals his fate with his own blood.
RJ Slaugh's tag cloud