Sedrick Hamilton
Biography
Writer and poet Sedrick Hamilton Writer and poet Sedrick Hamilton grew up in Mobile, Alabama. He was raised in a humble, caring family that emphasized strong church and moral values. At age thirteen, he made a wish to travel the world and experience a new life. Five years later, he joined the U.S. Air Force two weeks after graduating high school.

By age 24, he had traveled through parts of Europe and had lived in South Korea, Turkey, and Central America. After living a year in Panama, Central America, he was assigned to Hickam Air Force Base, Honolulu, Hawaii. It was during this time that he had his first paranormal experience. Many more would follow and to this day he considers Hawaii one of the most spiritually active places on Earth.

After living in Hawaii for three years, Sedrick relocated to Misawa, Japan, north of Tokyo. It was there that he began an awakening that would slowly begin to change his outlook on life and human existence. He is cited as saying:"

My awakening began while sitting on the side of a mountain one Saturday afternoon during a really turbulent moment in my life."

After living two years in Japan, Sedrick relocated to Anchorage, Alaska where he currently resides. He left the Air Force in late 2006 and now spends most of his time writing, meditating, discussing the philosophy of true human potential and investigating the paranormal.
Books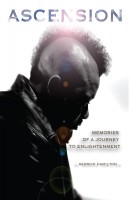 Ascension - Memories of a Journey to Enlightenment
by

Sedrick Hamilton
The world that I thought I knew so well became clearer and the meaning of life became more meaningful. Answers were revealed to some of my toughest questions including the toughest one of all—a question that each one of us, at some point in life, has asked..."Why am I here?"
Sedrick Hamilton's tag cloud