James D. Dilworth
Biography
James Dilworth has been involved in many artistic and creative endeavors throughout his life. Music is his first love and he sings and plays the Alto, Soprano and Tenor Saxophones, Guitar, Piano and Flute. James is a writer of poetry, translations of French poetry and prose, short stories, essays, screenplays and stage plays and has been published in several publications and publishes a literary 'zine called Non-Creative Garbage. been involved with several theatrical and dramatic arts companies, producing plays. James attended the University of Nevada, Reno, receiving a Bachelor's Degree in English Literature and a Master's Degree in Education from Sierra Nevada College, and a Doktorate of the Forbidden Sciences from the Church of the SubGenius. He enjoys films, books, all kinds of music and concerts, bike riding and exercising, long walks off of a short beach and playing Solitaire all night in the dark. You can visit his website at http://www.sejdb.com or http://www.noncreativegarbage.org.
Where to find James D. Dilworth online
Books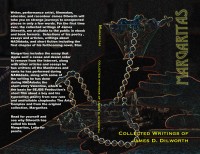 Margaritas
by

James D. Dilworth
James Dilworth will take you on strange journeys to unexpected places in a few words. For the first time ever, Dilworth's collected writings, are available to the public in ebook format. Margaritas has selections of his poetry, articles, writings about NADAdada, and short fiction, with the first chapter of his novel, Star. See why Dilworth has called his book Margaritas, or pearls.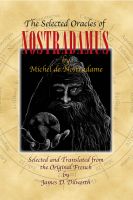 The Selected Oracles of Nostradamus
by

James D. Dilworth
Did Nostradamus, a 16th century prophet, really see the future and write about historical events and more in his infamous book of prophecies? Decide for yourself, after you read the new translation from French, presented without interpretation or bias, by James D. Dilworth. Read the words of Nostradamus in clear, plain English, with illustrations, an introduction, and a biography of Nostradamus.
James D. Dilworth's tag cloud