Trish Shelton
Biography
In addition to being a writer, Trish is the owner of Sensuous Living, LLC. She custom designs sensuous bedrooms, host special women retreats, private workshops,speaking engagements, sells products and provides coaching services to enhance the experiences of becoming a sensuous woman. Originally from Roanoke Va., Trish has traveled to France, Italy, Costa Rica, Panama, St. Martens and throughout the Caribbean, New Orleans, New York, GA, NC, SC and Florida to confirm her beliefs that life is a sensuous experience.Trish has a BS in Psychology, A&T State University, and Masters in Public Administration/Management from Rutgers. She has owned several companies including Exquisite Designs Gallery & Decor, PRAMM Consulting Group and Business Development Services International that offers business development strategies. Trish has a wonderful son, James Michael. She has a passion for enlightening others with her creative intelligence, designs, written and spoken words that heal the soul.
Where to find Trish Shelton online
Books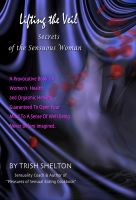 Lifting the Veil, Secrets of the Sensuous Woman
by

Trish Shelton
this book unveils the inner worlds of the sensuous woman, the sensual self, feminine body and her psyche. twelve secrets are explored, leading you on a self discovery to fully realize your unlimited power for a prosperous & sensuous lifestyle. this is a self help book for professional women, stay at home moms, widows, business women, single women & women in transition. welcome to your journey.
Trish Shelton's tag cloud