Sam Pettus
Biography
Sam Pettus is a graduate of Arkansas Tech University with a degree in mathematics who also studied at the United States Naval Academy and worked for a time in the nuclear power industry. Sam love's of videogames started early, when his father bought him a Sears Atari VCS and the game MISSILE COMMAND as a Christmas present in his youth. From there he moved on quickly to Commodore personal computers, staying with them and learning them well – from the venerable Commodore 64 on through the Amiga 4000 - throughout their original lifetime. It was his brother Mark who re-introduced him to his original love of videogame consoles with the Sega Genesis, and he would later come back to and rediscover it during a year-long period of unemployment following his nuclear power career. Sam eventually won a job with the United States Postal Service (with whom he still works today), but turned to writing in his spare time as the realization of yet another childhood love and dream. He combined both his passion for writing and his love for videogames in the original version of this book, which was written as a series of articles for the Sega-oriented website Eidolon's Inn (give address). Sam is also the author of the online treatise "Emulation: Right or Wrong?," as well as an unpublished (but completed) effort to recreate the other two never-written books in J.R.R. Tolkien's Atanatarion Trilogy. He was both the main writer and editor of the "D2: Dreamcast Database" online newsletter, and has authored almost a dozen other online books on various science fiction and fantasy subjects under various pseudonyms.
Books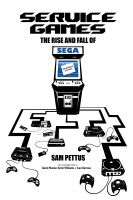 Service Games: The Rise and Fall of SEGA
by

Sam Pettus
Starting with its humble beginnings in the 1950's and ending with its swan-song, the Dreamcast, in the early 2000's, this is the complete history of Sega as a console maker.
Sam Pettus' tag cloud