Stephen E. Simmons
Biography
Stephen Simmons is a recent college graduate and a former basketball player at Oxford College of Emory and Emory University Main campus. He seeks to empower high school athletes as they make one of the most important decisions in their lives--where they will attend college. After being a marginal prospect in high school and coming very close to not playing organized basketball at the next level, he was able to achieve his dream of becoming a collegiate basketball player. He seeks to share his victories and shortcomings with others so that they can avoid unnecessary obstacles and be successful in the classroom, on the field of play, and most importantly, be winners in the game of life.
Books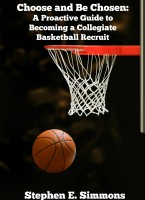 Choose and Be Chosen: A Proactive Guide to Becoming a College Basketball Recruit
by

Stephen E. Simmons
For many young athletes and their families the recruiting process is unfamiliar territory. Deciding where you should spend four crucial years of your life can be downright scary. This book gives prospects and their families practical, proactive steps for taking the recruiting process into their own hands, as they strive to realize their dreams of playing basketball at the collegiate level.
Stephen E. Simmons' tag cloud