Carl Raymond Moore
Biography
Carl Raymond Moore graduated from the United States Naval Academy in 1977, becoming a Navy pilot and flying the C-130 Hercules throughout the Mediterranean, Europe, and the Middle East. He now works from home as a full time systems engineer, and as a part time author and artist. He has a VERY patient spouse, four children, three step-children, and four cats. His literary interests run to science, history, historical fiction, and the occasional science fiction novel. His personal interests include sailing and boating, flying, scuba diving, motorcycling, woodworking, and sitting in the sun on any beach anytime anywhere.
Books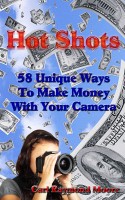 Hot Shots 58 Unique Ways To Make Money With Your Camera
by

Carl Raymond Moore
This book provides you with the best money making ideas to come along in the photography field. Overlooked markets, unique sales and promotional opportunities exist everywhere. Here are 58 of the best professional photographic opportunities ever developed. Any one of them will set you apart from the crowd and start you on the way to your own profitable and successful photography business.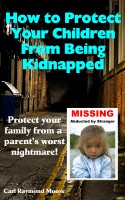 How To Protect Your Children From Being Kidnapped
by

Carl Raymond Moore
The worst nightmare of every parent is having their child stolen from them, never to be seen again. What can we, as parents, do to protect our families from this terror? Years of experience and research by experts has shown conclusively the surest defense against kidnappers is the education of our children and ourselves as parents about this clear and present danger to our families.
Carl Raymond Moore's tag cloud