Sean Fitzmorris
Biography
Born in 1965, Sean Fitzmorris is a native of New Orleans, Louisiana. He has been a paramedic there for nineteen years, working for New Orleans Emergency Medical Services as well as two private ambulance services. His long history responding to 911 calls gives him a wide field of real-life experiences on which to base his stories. His first work, "Found Wanting," is a fictional tale, but the characters and circumstances therein are all based on actual people and emergency calls he has known. Though he now practices as a registered nurse in the ICU, EMS will always be his first love and he continues to maintain a passion for those heroes that work in the field as well as a desire to improve EMS as a profession.
Where to find Sean Fitzmorris online
Books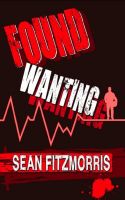 Found Wanting
by

Sean Fitzmorris
Death isn't unusual in the back of an ambulance - or is it? Author Sean Fitzmorris draws on his many years of experience as a paramedic and a nurse to tell the story of Found Wanting. Marc is a veteran paramedic in New Orleans. Years of dealing with the worst of society have hardened him and left him with a dark secret, which his brand-new partner, Brian, begins to suspect.
Sean Fitzmorris' tag cloud