S.G. Uhrich
Biography
Stormy Uhrich was born in Colorado and raised in a small town in northwest Kansas, where his vivid childhood imaginations still inspire him to this day. He grew up during the space race, and the Apollo Space Program expanded his imagination into boundless realms. Inspired by such authors as Isaac Asimov, J.R.R. Tolkien, Ray Bradbury and Arthur C. Clark, Stormy set his sights on becoming a Sci Fi writer and creator of his own Fantasy Worlds.

As a teenager, his family moved to a small college town in Colorado, finding interests in music, art and of course, Star Trek.
He has lived in Arizona for 30 years now, where his story interests have become grounded in character relationships and poetic explorations into matters of the heart.
Books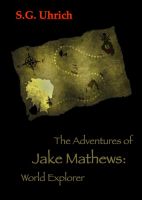 The Adventures of Jake Mathews: World Explorer
by

S.G. Uhrich
Jake Mathews is an imagineer, master of the art of imagination. Together, along with his younger brothers and sister, they travel the world, exploring the jungles of South America, sailing the high seas, and even venturing out into the depths of space, all in the expanses of their own back yard.
S.G. Uhrich's tag cloud