Ken Youngblood
Biography
I spent 40 years in television and the music business. In the military, I worked at the Armed Forces Korean Network as a news cameraman and film editor in Seoul Korea in 1965-66. I covered the meetings at Panmunjom on the 38th parallel and various news stories throughout South Korea.

After returning to the states, I worked the sound stages of the Army Pictorial Center in Long Island City, Queens New York as an assistant cameraman, making training films for the U.S.Army.

Later, during the 1970's, I worked at WVUE-TV and then WWL-TV in New Orleans in T.V. News and later as a producer, cameraman, film editor and song writer. I also produced music videos for the Peabody award winning show 'A Sunday Journal.' I moved to New York and decided to go full time producing music for Daytime dramas, aka 'Soap Operas.' Some of the shows to list a few were 'All My Children' 'Ryan's Hope' 'One Life to Live ' 'Another World' 'Texas' and 'Capitol.' I created music for 3 Networks and after 20 years I retired.

I also received a nomination for a JUNO award in Canada. 'Another Woman's Man' sung by Susan Jacks. I've always enjoyed writing stories, so I hope you find this story, "The Fetus Maker" though dark in tone, a worthwhile read.
Books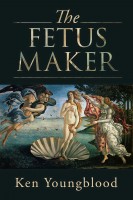 The Fetus Maker
by

Ken Youngblood
About a woman whose history of DNA may be a cure for the HIV virus which eventually leads to AIDS. But can only be accomplished through the production of her fetuses.
Ken Youngblood's tag cloud